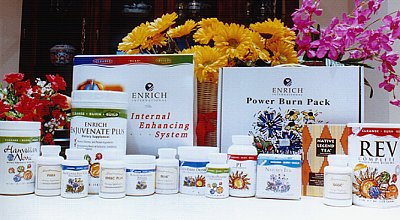 Enrich Product Catalog
select:
HEALTH PACKS
NUTRITIONALS
SKIN CARE
HAIR CARE
DOWNLOAD ORDER FORM
ARTH
BEE POLLEN
BONE
BMC PLUS
CHITORICH
CHLOROPLASMA
DIG
ENJUVENATE
HAWAIIAN NONI
LIFEPATH CHEWIES
NATIVE LEGEND TEA
NATURE'S TEA
PARA
PERFORM
PT
RED CLOVER PLUS
RESP
REV COMPLETE
SGGC
SUPER CHLOROPHYLL
WATERGONE
Enrich Health Packs
Introduction to Enrich Health Packs
ARTH BEE POLLEN BONE BMC PLUS CHITORICH CHLOROPLASMA DIG ENJUVENATE HAWAIIAN NONI LIFEPATH CHEWIES NATIVE LEGEND TEA NATURE'S TEA PARA PERFORM PT RED CLOVER PLUS RESP REV COMPLETE SGGC SUPER CHLOROPHYLL WATERGONE


No.
Pack
Point Value
Retail Price
Purpose
8226
Internal Enhancing System Pack

300PV
RM400
One of the easiest ways to start your journey towards wellness. The Internal Enhancing System (IES) Pack helps your body's immune system. It will help stimulate your immune system, and when your immune system is strong, it will help you find any diseases. It comes in a pack which contains Nature's Tea, Para, Red Clover Plus, SGGC, Chloroplasma and Native Legend Tea into an effective and attractively priced pack. Gear towards giving your system a thorough cleansing and rebuilding with the necessary vitamins, minerals and nutrients.
Recommended way to take the Power Burn Pack:
Days 1 - 14: Nature's Tea, Para, Red Clover Plus
By taking Nature's Tea and Para, you improves your intestinal function and establish a toxin-free colon. Para will help the parasites leave your body system. In addition, you should take Red Clover Plus to stimulate your immune system thus establishing your protection against foreign agents.
Days 15-30: SGGC, Chloroplasma,
SGGC will help overall immune function. Then Chloroplasma which is very good at enhancing a person's immune function. Then an overall cleansing of the blood with Native Legend Tea. Red Clover Plus is taken throughout the month to improve your immune function.

8228
Power Burn Pack (Weight Management Pack)

380PV
RM525
A save and healthy way towards weight management, Power Burn Pack combines Nature's Tea, PT, ChitoRich and Rev Complete. Each of these products takes care of a different aspect of controlling your diet and losing weight, so that you can burn the excess calories and still retain a balance diet.
Recommended way to take the Power Burn Pack:
Breakfast: REV Complete, PT, SuperChlorophyll
Rev Complete is important for breakfast because it provides vitamins and minerals, and especially because it is a source of protein. This can be used as a breakfast replacement, meaning you don't have to take breakfast if you start your day with Rev Complete. In addition, you'd take PT, which is important because it contains stimulants for your metabolic system. You will be burning fat at the same time you'll be producing heat. Your body heat will increase one or two degree in temperature. In addition, you should take SuperChlorophyl (which is not included in the pack) because it will help and establish a functional immune system while your body is burning fat.
Lunch: PT, ChitoRich, SuperChlorophyll
For lunch you'd want to start with PT, again to continuously keep your metabolic system revved up and burning fat. Then take ChitoRich during or no more than 15 minutes after your lunch, so that it will absorb excess fat. Again, you should take SuperChlorophyll to help your immune system stay strong throughout the day.
Dinner: ChitoRich, Nature's Tea, SuperChlorophyll
Again, you should take ChitoRich again to absorb extra fat. This is not a license for you to overeat extra fat, it's just a preventive agent. Make sure you take Nature's Tea some time before you go to bed and after your dinner, to establish proper intestinal function and cleanse the toxin from your body. Take SuperChlorophyll to maintain your immune function when you sleep.

Herbal / Supplement
No.
Products
Point Value
Retail Price
Purpose
10993
Arth™

43PV
RM60

reduces inflammation and swelling of joint
relieves tension and pain in the ligaments
stimulates blood circulation to affected areas
aids in menstrual cramps, aches and pain
neutralizes uric acid in gout

10963
Bee Pollen Caps
50PV
RM69

One of nature's perfect foods. Bee Pollen is an easy way to provide your body with complete nutrition for energy and stamina to enable you to achieve optimal performance in all areas of your life.
Ingredients: Pure Bee Pollen

11179
Bone™
50PV
RM69

Bone is historically used for osteoporosis and leg cramps. It is a formula used for all structural disorders.

11183
BM & C® Plus
50PV
RM69

prevents muscle cramps, pain and swelling
relieves varicose veins & hemorrhoids (piles)
reduces inflammation in muscles, tissues and ligaments
improves nerve transmission time to muscles and tissues
nourishes ligaments and tendons
reduces inorganic deposits in joints and tissues

10734
ChloroPlasma
54PV
RM78

ChloroPlasma combats problems like diabetes, anaemia, atmospheric pollution, strengthens the immune system, helps inhibit cancer, builds and regenerates red blood cells. It also builds stamina and endurance.

11397
ChitoRich
155PV
RM225

Chitosan is a natural weight loss agent and bulk fiber to the digestive system and colon cleansing. Pharmaceutical grade chitosan has been shown to be effective for lowering cholesterol.

10965
DIG
43PV
RM60

Nourishes and promotes a healthy digestive system
Minimizes common digestive discomfort
Increases the overall feeling of well-being
Helps in digestion and assimilation of food more efficiently
Helps reduce flatulence, stomach cramps, bloating and pressure which sometimes occur after eating
Stimulates appetite
Relieves congestion in the upper respiratory pathways - relaxant

13708
EnJuvenate Plus
380PV
RM475

A formula with scientifically-proven Ingredients that safely and effectively promote the body's natural production of beneficial biological substances, including human growth hormone.
Turn back your biological clock
Restore youthful vigor and vitality
Promote weight loss
Restore sex drive
Increase energy
Help regenerate heart, liver, kidney and lung cells
Promote normal blood pressure and cholesterol levels
Promote production of lean bone and muscle mass
Enhance biological systems and performance
Enhance important slow-wave regenerative sleep
Help make you feel young again
Ingredients: Enrich Super Protein Complex™ ++ (Soy Protein Isolates and Calcium Caseinate), Crystalline Fructose, Enrich Regenerative Complex™ (L-Ornithine Alpha Keto Glutarate, Glutamine, L-Ornithine, Gamma Oryzanol, and Dibencozide (CoEnzyme b 12)), Enrich Pituitary Complex™ (Gamma Aminobutyric Acid and Macuna Pruriens Extract), Natural Vanilla Cream Flavour, Dutch Cocoa, Tribulus Terrestris Fruit Extract, Salt, Sodium Bicarbonate and Natural Peppermint Flavour.

13438
Enrich Core Pack - Children
120PV
RM200

Children's Product: Packed with essential nutrition that suypports the special needs of growing bodies, this powerful formula helps to safeguard your children's health while appealing to their fickle appetites. Just blend single scoop into eight ounces (one glass) of colde milk, water or juice, then stand back aqnd watch them jump-start their day with balanced nutrition.
Ingredients: Crystalline fructose, Whey protein concentrate, gum arabic maltodextrin, natural orange & vanillin flavors, high oleic sunflower oil, corn syrup solids, Siberian ginseng, Echinacea, Chinese ginseng, odorless garlic, SynCron 7, Lecithin powder, Methionine, Potassium iodide, Retinol palmitate, Citric acid, Xanthan gum, Guar gum, Sodium caseinate, Fructooligosaccharides (from chickory), Mono and diglycerides, Dipotassium phosphate, Soy lecithin

13117
Hawaiian Noni
120PV
RM150

The Noni plant, otherwise known as Morinda Citrifolia, provides many health-supporting properties. Now, available in a powdered drink mix, the Noni fruit, which is valued by native Polynesians for centuries, is enhanced by the added immune-enhancing benefits of Indian mulberry, papaya and aloe vera.

13610
LifePath Chewies
50PV
RM75

Children's Product: This is a remarkable product that combines the nutritional properties of bioflavonoids nwith the free radical protection of antioxidants.

580
Native Legend Tea
63PV
RM88

Benefits and Functions:
Arthritis: Helps with anti-inflammatory action, rheumatism, gout
Blood: Hypoglycemic action, cleanses and purifies blood very rapidly. Helps prevent blood acidity.
Digestive: Externally to reduce hemorrhoids.
Cancer: One of the herbs used in the Essiac formula. Japanese scientists found a substance in burdock that was capable of reducing cell mutation and also considerable anti-tumor activity.
Immune: Stimulates the immune system.
Liver: Has restorative powers for liver and gallbladder.
Skin: Tea will clear all kinds of skin problems, such as boils, carbuncles, etc.
Tonic: Cleansing, purifying, detoxifying and soothing to the entire body.
Urinary: Strongly diuretic and diaphoretic. Helps prevent stone formation and fights infections.
Ingredients: Burdock, Turkey Rhubarb, Sheep Sorrel, Slippery Elm, Cress
Click here for additional information on the ingredients.

585
Nature's Tea
50PV
RM63

All foods not digested or absorbed as bodybuilding nutrients become toxic wastes. Wastes that linger in the body rot and putrefy into dangerous, smelly garbage that must be excreted immediately. Nature's Tea is an excellent programme for weight loss. Now you can eat normal, well-balanced meals while "drinking your pounds away!"
Benefits and Functions:
mild lazative and digestive aid
cellulite and fat fighter
diuretic and appetite-curber
colon cleanser
cholesterol cleanser
removes body odor
eliminates constipation

11186
PARA
43PV
RM69

Congested bowels are ideal breeding places for nutrient draining, disease-causing parasites. Parasites use your body as a host and live off you. Bacteria, fungi, virus and protozoa will infect you as well as infest you, but worms are the most harmful.. They range from pinworms, roundworms, hookworms to tapeworms.

10968
PerForm
50PV
RM69

PerForm is a synergistic blend of Oriental and Western herbs designed to benefit the endocrine glands, genitourinary glands, adrenal glands, male & female reproductive organs, cardiovascular system, immune system, nervous system.
Key Benefits and Functions
functions as tonic and aphrodisiac
performs as an adaptogen overcoming stress, fatigue and lethargy
enhances the immune system
improves resistance to diseases
rejuvenates the glandular system
increases sperm count in males
balances hormone production in women
improves reflex actions
relieves high blood pressure
protects against the influx of toxins
improves oxygen utilization
improves vasodilatation action
promotes production of the male hormone testosterone and the female hormone progesterone
promotes skin health

10908
Power Trim PT Weight Control
82PV
RM124

Power Trim is the most responsible weight management programme ever designed. It has been scientifically designed with the thermogenesis principle. You not only lose weight, but inches as well! Taken together with Nature's Tea, weight loss of 5 to 15 pounds can easily be achieved within two weeks.

157
Red Clover Plus
42PV
RM58

Excellent blood purifier
Enhances the health of the liver
Helps rebuild red blood cells
Contains anti-tumor properties
Serves as an expectorant
Anti-bacterial, anti-fungal and anti-viral
Helps protect against heavy-metal toxicity\
Has anti-inflammatory properties
Ingredients: Red Clover blossoms, Sheep's sorrel, Peach bark, Barberry root, Echinacea root, Licorice root, Oregon grape root, Stilingia root, Cascara Sagrada root, Sarsaparilla root, Prickly Ash bark, Burdock root, Kelp, Rosemary leaf
Click here to read more about the herb Red Clover

11178
RESP
36PV
RM50

Relieves allegy, respiratory irritation and asthma
Nourishes the lungs
Soothes the throat
Reduces inflammation of mucus membranes
Calms the nerves
Relieves air passage and sinuses
Reduces heavy snoring and whizzing

13098
REV Complete Chocolate
80PV
RM124

REV Complete is an excellent source of complex carbohydrates and offers a rich supply of essential vitamins and minerals. This product is especially high in fibre, antioxidants and protein. REV Complete is made from a soy protein isolate that is absorbed more easily and completely by the body than other soy protein products. Isolated soy protein provides 90% protein compated to 70% from soy concentrate and 50% from soy flour. Fibre cleanses the intestinal tract to get rid of harmful toxins. Antioxidants combat free radicals which attack and damage cells. Protein helps build cells and tissues and is essential for proper growth, development and maintenance of health.
REV Complete is a meal replacement that mixes well with cold water and converts fat to muscle, is an appetite suppressant, cleanses the intenstinal tract plus improves regularity.
Ingredients: Crystalline Fructose, Soy Protein Isolate, Gum Arabic, Corn Syrup Solids, Natural Flavours, High Oleic Sunflower Oil, Soy Fibre, Maltodextrin, Oat Fibre, Tricalcium Phosphate, Dipotassium Phosphate, fructoolligosaccharides, Cellulose Gum, Sugar Beet Fibre, Potassium Chloride, Xanthan Gum, Salt, Oat Bran, Rice bran, Guar Gum, Mono and Diglyercides, Wheat Bran, Citrus Pectin, Ground Psyllkium Husks, Corn Bran, Ascorbic Acid (Vitamin C), di-alpha tocopheryl Acetate (Vitamin E), Green Tea Extract, Curcuminoids, Cats Claw, Zinc AAC, Copper AAC, Soy Lecithin, Dicalcium Phosphate, Iron AAC, Selenium AAC, Bitamin A Plmitate (Vitamin A), Niacinamide (Niacin), d-Calcium Pantothenate (Pantothenic Acid), Mangenese AC, Vitamin K, Cholecalciferol (Vitamin D3), Chromium Niacin AAC, Grape Seed Extract, Pyrdoxine Hydrochloride (Vitamin B6), Molybdenum AAC, Riboflavin (Vitamin B2), Thiamine Mononitrate (Vitamin B1) cyanocolamin (Vitamin B12), Folic Acid, Biotin Potassium Iodide

11182
SGGC
42PV
RM58
20047
SuperChlorophyll
45PV
RM57

Green foods in the prevention of diseases: There is absolutely no substitute for greens in the diet. If you refuse to eat these sunlight energy foods, you are depriving yourself of the very essense of life.
SuperChlorophyll:

Provides oxygen for acidophilus bacteria in the bowel
Cleanses the body tissues of impurities and toxins
Contains high percentage of iron and minerals that helps build red blood cell count and helps detoxify the liver
Absorbed readily into the body, as it is similar in composition to human blood
Helps to treat peptic ulcers and stomach ailments
Is a blood purifier and blood thinner
Aids in the assimilation of protein, calcium from the body
Cleanses the kidneys and removes poisons from the body
Neutralizes acids and helps remove bad breath and body odour

11180
WaterGone
48PV
RM65

WaterGone helps your body eliminate excess water. WaterGone is concentrated to be stronger than most ordinary herbal products. It will help relieve your body of temporary water weight-gain, swelling, bloating and puffiness due to excess fluid retention. WaterGone also builds the Urinary system as it cleanses. Each ingredient is carefully selected for its properties effecting the urinary system. This product is for anyone concerned about their kidneys, bladder or urinary tract
Ingredients: Uva Ursi, Juniper Berries, Shave Grass, Corn Silk, Parsley, Queen-of-the-Meadow, Golden rod, Cubeb, Cranberries, Watermelon Seeds